Location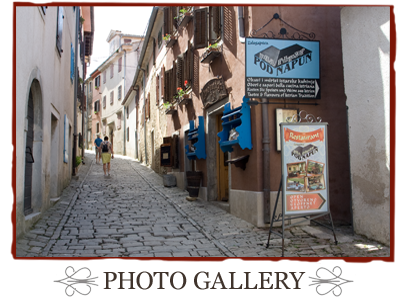 The existing location of the store and the restaurant originates of a house complex, implemented in 1985 of some housing units trace the origin of 17th century and is situated on the most frequent street of Motovun, east – west of the village entrance, with houses on both sides. The building rises on different floors and is situated on a northern side of hill, where it descends steeply toward the river Mirna, Livade and mythological forest of Motovun which is known for its richness of truffles. All together, creates a magnificent view that extends from a sea of Novigrad to the west and, up to the hill Ćićarija that is situated on the east. The result is an immeasurable value of the location.
The particularity of the arrangement allows, from one side, an easy access from the main street for anyone who wants to visit Motovun, one of the most famous Istrian villages, while, the other side offers stillness and the possibility of enjoyment of one of the most spectacular sights which extends 45 km from west to northeast.

The store "Etnobutiga Ča"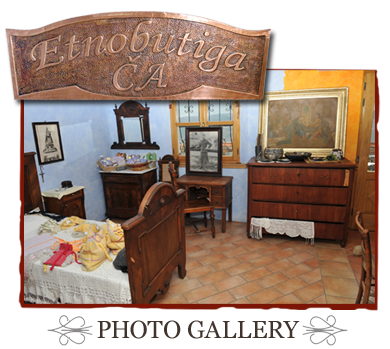 It is designed as an exhibition of typical products that were traditionally used by village people. There are extended food and hand tools that were used in everyday life. The exhibition and the products as well are exposed in the room of one typical Istrian house of farmers that dates back to the end of 19th Century.
These spaces are equipped with authentic and original furniture, family inheritance, and largely Alt deutsch style and/or arte povera style. The smaller part of furniture is purchased and originates as well of Istrian source. Exposed antique furniture is not for sale, and it is organized as an arrangement that accurately reflects the house structure of that period: kitchen – kužina, room – kamara, tavern – kantina and the entrance – andito.
Supply of goods in the store is:
Traditional local food products - truffles, honey and honey preparations, olives and olive oil, mushrooms, natural spices, cheese, ham, jam and marmalade, homemade pasta,
Rich selection of high-quality Istrian wines and all kinds of brandy, biska, medenica, herb and fruit brandies
Herbs, herbal remedies, essential oils, natural resources for body care
Original or a copy of ethnic items that were used in everyday life, some can be acquired in a life-size and some in miniature
Paintings and landscape motifs
Religious items, mini statues, paintings, badges, crosses, rosaries
Utility and decorative items made of olive wood, ceramic and stone
Tourism literature
Original children's toys
Most of goods for sale were made by small Istrian artisan businesses; while the other part is however of Croatian origin. The purpose is the promotion of Croatian cultural and traditional heritage of Croatian as a whole. Imported products are not offered.

Restaurant "Pod napun"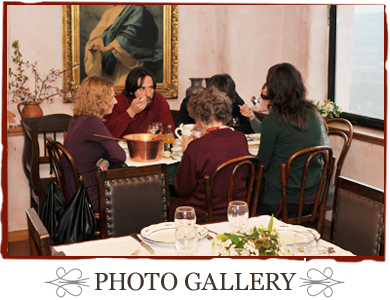 In rural house the fireplace represents a focal point of a traditional family life. Below its upper part, which is called "napa", the family was warming up during the winter months. It was also a place where were prepared various typical dishes, for example, čeripnja or supa. Istrian supa is a drink prepared from a red wine, toasted bread, olive oil, sugar and pepper. Supa was drunk after a long laborious day and so was passing on the tradition from generation to generation. The main purpose of a restaurant "Pod napun" is the heritage preservation, therefore, the conservation of traditional Istrian cuisine without compromise, starting with the restaurant name that expresses that intention, passing by the furniture, inner and external part of the restaurant and finally, through the cuisine where the modern influence is reduced to a minimal essential.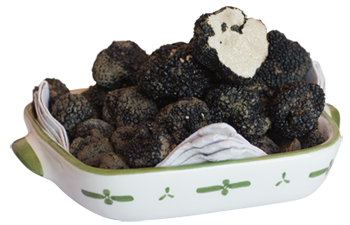 The restaurant is based on a model of store "Etnobutiga ČA", with an original ambience equipped by antique tables and chairs – a distinctive style that goes back to seventy years ago. The kitchen is fully open and it permits a continuous rapport with the staff in order to permit an impression exchange with the cook relative to consumed dishes or even dishes full of our mother and grandmother's tradition that represented different social descents. The kitchen would be incomplete if it wasn't pervade of the spirit of our times, that is especially expressed with the presence of truffle – a world known delicacy – and a wide range of wild herbs and aromatic plants collected in the surroundings of Motovun.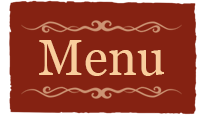 Restaurant set is especially made and ordered for the restaurant "Pod Napun" and it also represents an example of Istrian tradition both for form and decoration.
Restaurant disposes of 75 seats of which, 24 are in the inner part and 51 in the external part of the restaurant; one part of the terrace is covered and it can accommodate 11 persons.

Restaurant menu is grouped as follows:
Cold appetizers - smoked ham, goat, cow and cheese with truffles, truffle salami
Several types of soup with asparagus, truffles and Istrian minestrone
Hot appetizers that include scrambled eggs with ham, asparagus and truffles, homemade pasta (ravioli, pasta, pljukanci, posutice, gnocchi, lasagne – tagliatelle) with black and white truffle sauce, and olive oil
Main dishes of pork and pork loin, beef and veal coated with homemade pasta, chicken and turkey breast fillet
Various salads with and without truffles
Typical Istrian pastries: fritule, kroštule, pandešpanja and a house specialty povitica with truffles
Opportunity of tasting several kinds of varietal olive oils of excellent Istrian oil refinery
Apart from the usual types of drinks, local vines, there is also offered a whole range of different types of wines of the most famous Istrian winemakers.
The helpful staff is in a close harmony with the management and the cuisine and it contributes to complete the extraordinary visitor's experience.
Accommodation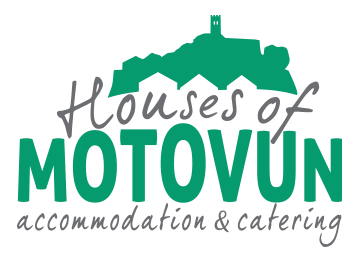 Following the carefully thought mission development of the accommodation component of the business and, respecting the architecture and cultural heritage of Motovun and, in accordance with sustainable development, as part of centuries back certain architectural and cultural dimensions, a family owned company is making efforts to convert the existing facilities into the personalized accommodation units.
Since the activities are currently performed at three separate locations, which are mutually substantially and functionally related it has been adopted a new identity of the company being promoted as part of the brand HOUSES OF MOTOVUN.
The company in its composition has, with the exception of restaurants and shops accommodation as well:
House placed at Gradiziol 46,
built in the early eighteenth century, arranged on three floors, retains the old characteristics, in particular, the original stone construction, wooden staircase and external doors and windows, as well as authentic floor construction. It offers the possibility of renting a house as one unit with four bedrooms, of which, three double and one single with kitchen, living room and outdoor terrace.

Personalized rooms, decorated in a harmonious embrace of design manuscripts and local traditions of architecture, discreetly inbreathe spirit of the standard attain as well as of the quality of life.

All rooms are categorized with **** including air-conditioned and heated room, minibar, vault, SMART TV with satellite reception of hundreds of programs, Wi-Fi, a fixed Internet connection, spacious comfort, equipped bathrooms, and others accommodation of high level standards. When required in each room can be added an extra bed or a cot.

Rooms

Pirun is a single room, overlooking the atrium of the house, equipped with a particularly comfortable bed measuring 140x200 cm, which allows the use as a double room.

Kortel is a double room, with two single beds; it is characterized by a wonderful view of the picturesque panorama of the Motovun surroundings.

Kučar is a double room with double bed and a balcony with a view of the southern slope, the roofs and the top of Motovun dominated by a bell tower.

Palj is a double bed room bounded by a canopy, wrapped in white curtains that excitingly descend to the bed. It is especially recommended for couples. The room is enriched by a fireplace as well as by luxurious bathroom with a bathtub.

Pijat is a spacious studio apartment for three adults, with fully equipped and modern designed kitchen, classic and antique dining room, an extendable sofa (dimensions 200x160 cm) as well as chair – bed (200x90 cm). The original parts are particularly interesting, especially the 140 years old paved floor made of terrazzo tiles, impressive restored and enriched external and internal wooden joinery with wrought iron on the bottom window and door openings.

Apartment "Casetta Melon"


A little stone house is placed side by side to the next house and it is enhanced on 42 m², arranged on three floors. The house is a part of family heritage and during centuries it has been used as a shelter for a numerous rural family Melon. The ground floor was usually assigned to a stable for a donkey that represented an irreplaceable help for a family and it was an excellent compromise through those narrow alleys of Motovun that were usually barely accessible.

The house has been renovated into a small apartment of 40 m² respecting the structure of period but, at the same time is answering to actual necessities and needs. Although is intimate and small, it is however equipped and comfortable with two independent entrances. It is located on the south side, in one of the most picturesque and yet very quiet zones of Motovun, at Rialto 11 (road not accessible to vehicles). Parking is provided on a property ground and it is distant 50 m of "Casetta Melon".

The apartment consists of:

Ground floor

Kitchen and dining room are equipped with modern kitchen facilities for food storage and preparation, as well as maintenance of air quality. Respectively, dual glazed restored antique cabinets and a small table with four chairs.

Bathroom is located in a small space with a custom shower with water massage and other devices, it is heated and ventilated and it also has a washing machine.

First floor

The living room is equipped with a bench and a showcase, a sofa with the possibility of converting into a bed, a coffee table, TV and radio.

Second floor

Attic room is furnished with a double bed, two nightstands of a style Alt deutsch, dressing table with chair, and wardrobe.

The apartment is air conditioned, with built-in phone and the Internet connection.
About us

"Dielel" Motovun is an Ltd company for tourism, hospitality, retail and agriculture. It is founded as a small family business on 28th November 1994. The company is headquartered in a family house in Motovun, Gradiziol 33.
Since 2003 the company is occupied with the retail trade activity through the store "Etnobutiga ČA" that operates at the company headquarter. The smaller part of company deals with the wholesale trade activities with the same product selection as in the retail trade.
During the Motovun Film Festival there is launched the campaign and occasionally hospitality service and, all in terms, of providing services on the bench.
At the restaurant "Pod Napun" is carried out permanent restaurant activity which is a kind of company's business actuator.
The agricultural activity of a family Lanča, extended on three hectares, cultivates vines, olives, pears, and supplies products for the restaurant "Pod napun" guaranteeing high – quality of food and beverages served.
In the last few years, it has been developed the concept of leaning the accommodation to restaurant services. For this purpose, it has been bought the House of Gold, partially renovated and equipped in the unit of higher category. The results are being achieved and confirm that the chosen direction is correct, which will be followed in the future by focusing on the types of units and buildings that the company still has not got in its composition, as well as houses and structures with specific offers that improve the stay in Motovun.

Contact

© Dielel d.o.o., 2015. | web: intuo